Our CUSTOM FACIAL is a fully comprehensive, multi-step facial, including double cleansing, exfoliation, deep hydration, anti-aging and targeted treatment serums and more. Our Organic Custom Facial features the Eminence professional grade product line. Our 60-minute facial includes additional hydration and massage for hands, arms and décolleté.
This facial is designed to give you total flexibility and your esthetician the freedom to fully customize a facial and skin care regimen that is uniquely suited to YOU.
60-minute Custom Facial
| $135
60-minute Custom Organic Facial
| $145
30-minute Custom Facial
| $85
30-minute Custom Organic Facial
| $95
PERSONALIZED FACIAL ENHANCEMENTS (ADD-INS)
---
You can add any of the enhancements below to your CUSTOM FACIAL. Book now or during your facial consultation with your esthetician. While the following enhancements add cost, they do not require additional time.
Personalized Hydrojelly™ Mask – $25
Your esthetician will customize your Hydrojelly mask to best meet your goals, including to enhance your skin's barrier function, replenish moisture, detoxify, alleviate skin breakouts, reduce inflammation, or provide deep cleansing combined with intensive exfoliation.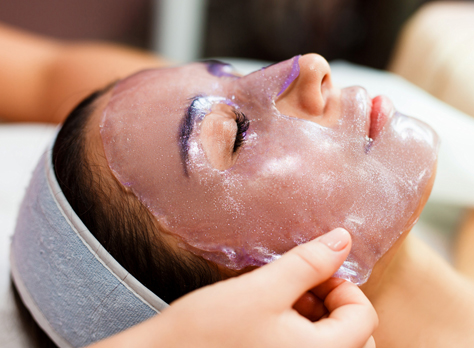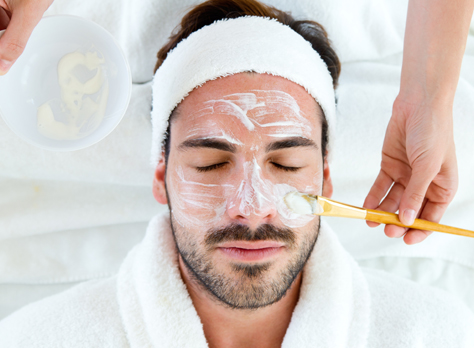 CBD Facial Treatment – $40
As an anti-inflammatory, studies have shown that CBD can help reduce swelling and redness from existing breakouts or skin irritation. Packed with antioxidants, it has the ability to help reverse the signs of aging (wrinkles, sagging skin, dullness, ruddy skin tone) by counteracting free radical damage. This facial incorporates products infused with CBD as well as a CBD Hydrojelly® mask promising to give dull skin a much-needed boost, leaving it looking healthy, glowing and radiant.
Eye Smoothing & Face Cooling Globe Treatment - $15
The cooling facial tools work by constricting blood vessels and thus tightening and toning the skin; minimize inflammation and puffiness; help lymphatic drainage and sinus pressure; reduce redness and pore size; and kick-start circulation to provide a radiant glow to the skin.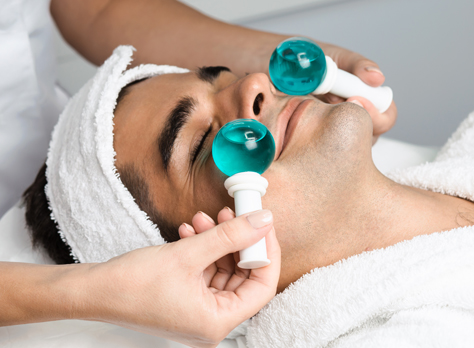 PERSONALIZED ADD-ON ENHANCEMENTS
---
The following ADD-ON Treatments take your Custom Facial to the next level. You can add one or more of these to your 30-Minute or 60-Minute Custom Facial. Because these treatments ADD TIME, please book any Add-Ons at the same time you book your Custom Facial.
Acne-Focused Treatment | 15 Minutes – $25
Your esthetician will advise as to the best combination of manual extractions and/or high frequency treatment to address visible acne breakouts, reduce inflammation and redness; oxidate the skin and speed up healing.

Add this treatment to a 30-minute facial for a great teen experience or to a 60-minute facial for a fully purifying, pore-refining, and detoxifying facial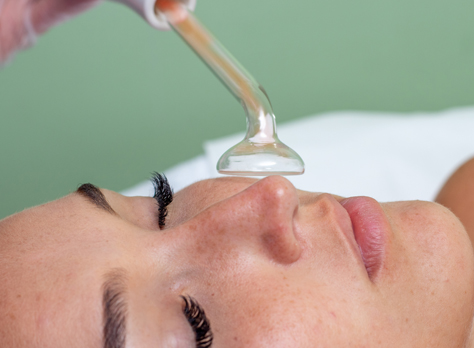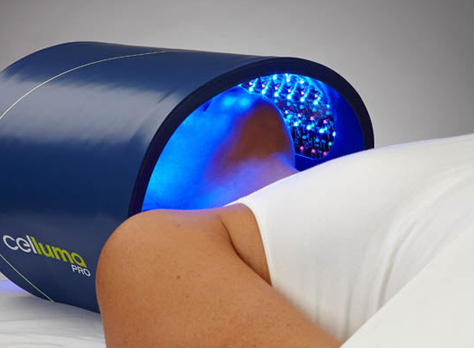 Anti-Aging, Light Therapy | 15 Minutes – $35
Using a lower-frequency RED light-emitting-diode (LED) or phototherapy can increase the production of collagen by acting on the fibroblasts in the skin. Red LED light therapy can also reduce inflammation and puffiness by accelerating tissue repair for healthier and younger looking skin.
Acne, Light Therapy | 15 Minutes – $35
Using a higher-frequency BLUE light-emitting-diode (LED) or phototherapy kills bacteria by reducing activity in the sebaceous glands, which produce bacteria-trapping oils. Blue LED light therapy can help improve tone, texture, and clarity for healthier and younger looking skin.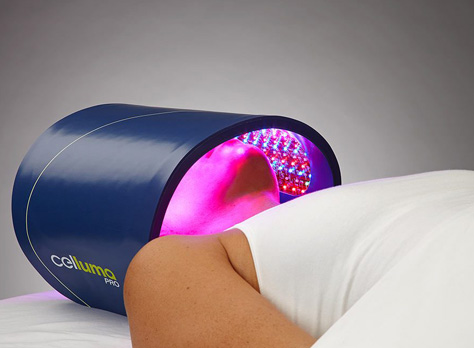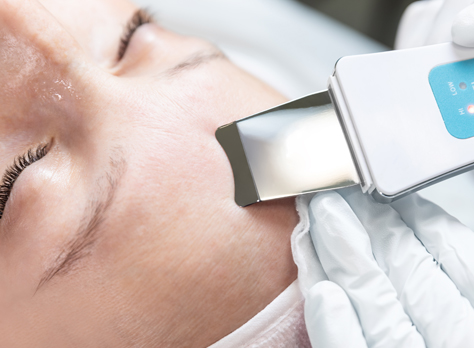 Exfoliation Treatment, Ultrasonic | 15 Minutes – $25
Used during the cleansing stage of your Custom Facial, bt-Micro™ deeply cleans and decongests pores, pushing out embedded dirt and oil with the flat peeling probe. The high speed ultrasonic and microcurrent oscillations aid the cleanser to better penetrate the skin for a deeper, more purifying clean. Significantly boosts absorption of product for every next step in your facial.
Facial Lifting, Microcurrent Treatment | 15 Minutes – $25
NuFace Microcurrent provides a gentle wave of energy nearly identical to the body's natural ionic flow and has been shown to increase ATP (body's cellular energy) concentration up to 400%, while simultaneously stimulating protein synthesis and promoting amino acid transport. The result is a visible face or eye lift.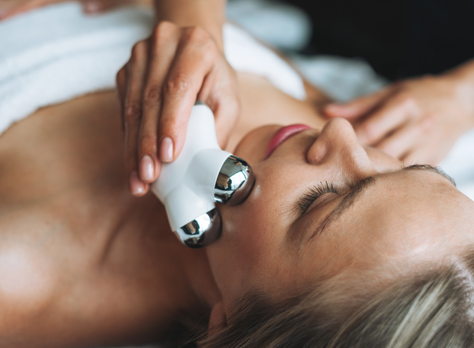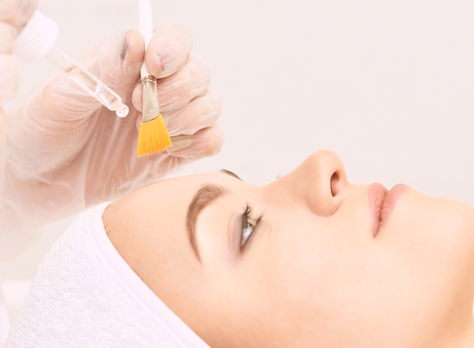 Eminence Organic Peel Enhancement | 15 Minutes - $25
Deeply exfoliates skin and refines and evens the look of skin tone. Contains very strong antioxidant and age-defying benefits which helps to reduce the appearance of inflammation and redness.