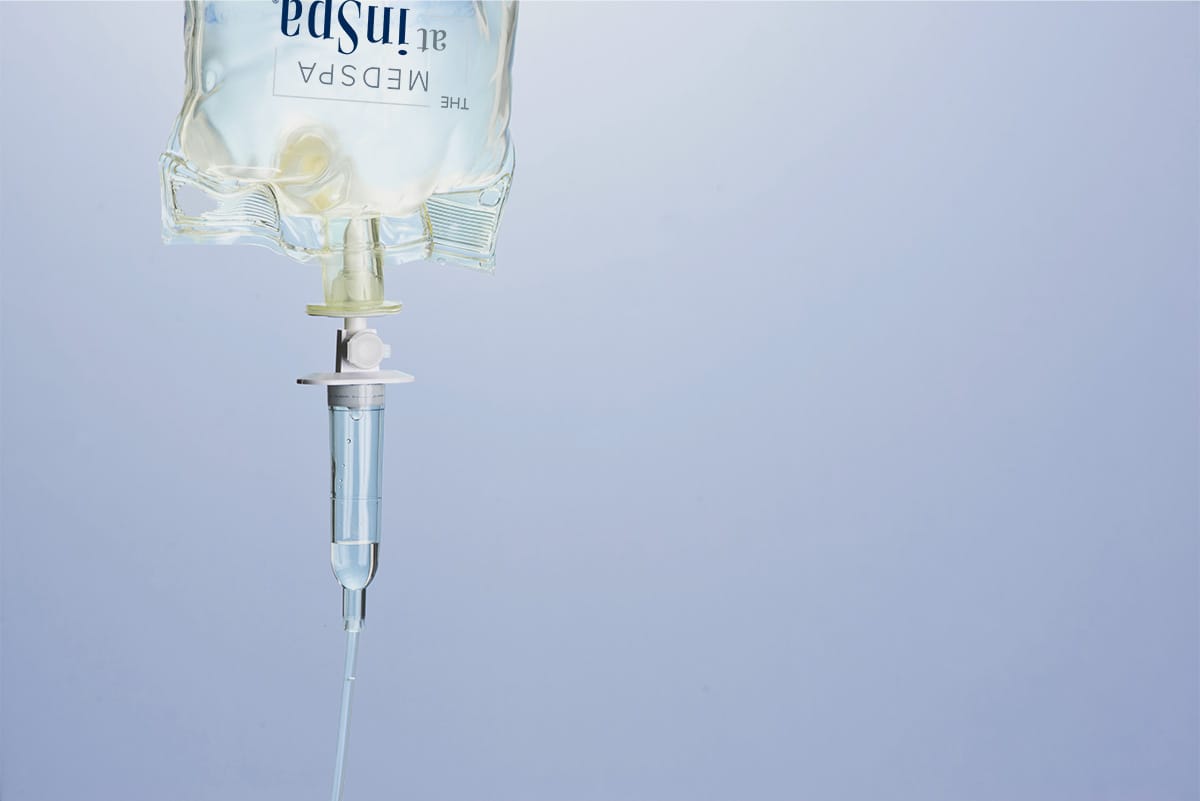 IV DRIPS & VITAMIN SHOTS
The MedSpa at InSpa offers IV drip therapy and nutrient injection services to help support your health & wellness goals.
---
Our wide variety of treatment options help support immunity, weight loss, energy levels, overall health, and can be custom tailored to your unique needs.

Available now at InSpa University Village. Coming soon to additional InSpa locations.
---
INTRODUCTORY SPECIAL
15% OFF any price listed below
FIRST IV DRIP THERAPY
Enter "MEDSPA" in the promo code field when booking online
INTRODUCTORY SPECIAL
15% OFF any price listed below
FIRST NUTRIENT SHOT
Enter "MEDSPA" in the promo code field when booking online
---
IV DRIP
INFUSION BAR
---
ONE HOUR SESSION
Powerful antioxidants, amino acids; vitamin and mineral complexes — enter your bloodstream directly, bypassing the digestive system, ensuring immediate absorption.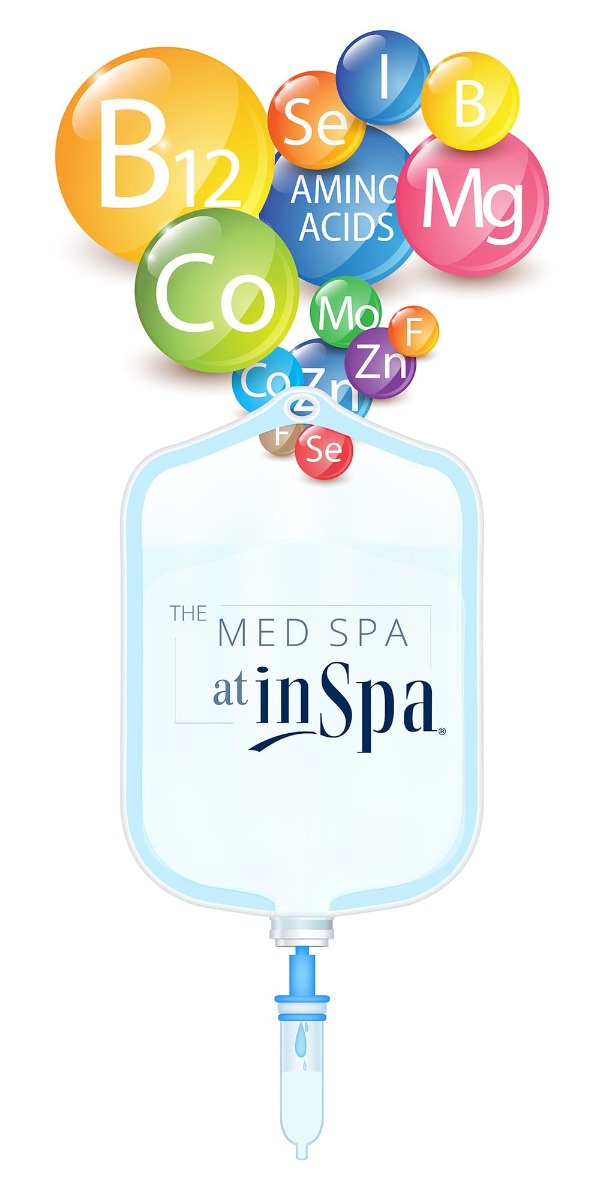 Max Impact - Myer's Cocktail
$329
Magnesium; Calcium; B12; B6; B Complex; Vitamin C
Combines the benefits of energy & metabolism-boosting B complex with immunity boosting C, bone-strengthening calcium, and body and mind powerhouse magnesium.
It's the EVERYTHING DRIP!


Immunity & Wellness
$229
Vitamin C; B Vitamin Complex; Zinc Chloride
Super potent antioxidant blend to help fight infection, increase energy, promote cellular health; fight oxidation and signs of aging.
Ondansetron (Zofran); Vita Complex; Mineral Blend (Magnesium, Zinc, Manganese, Copper, Selenium)
Full array of potent Vitamin B Complex and powerful Mineral Blend; Zofran (for nausea); infused hydration; will do the trick! Optional Add-On: Toradol for headache. Pepcid for stomach upset.
The Skinny
$229
Vita Complex; Amino Blend; B12 (Cyanocobalamin); Lipo-B by Intramuscular Shot (IM)
Mineral and Amino Complexes; Vitamin B12; to supercharge metabolism and build proteins; Lipo-B (Methionine, Choline, Inositol) to break down fat (lipids).
Allow 75 Minutes.


Athletic Performance
$329
Vitamin C; B Vitamin Complex; Amino Blend; Mineral Blend
Amino acids - the foundation of muscle building and recovery; B Vitamins & Mineral Complexes boost energy, stamina, endurance.
Beauty Glow
$329
Vitamin C; B Vitamin Complex; Biotin; Glutathione
Support keratin & follicle growth, strong nails, nourished skin; IV push of Glutathione (included) for intracellular health, glowing skin. Allow 75 Minutes.
---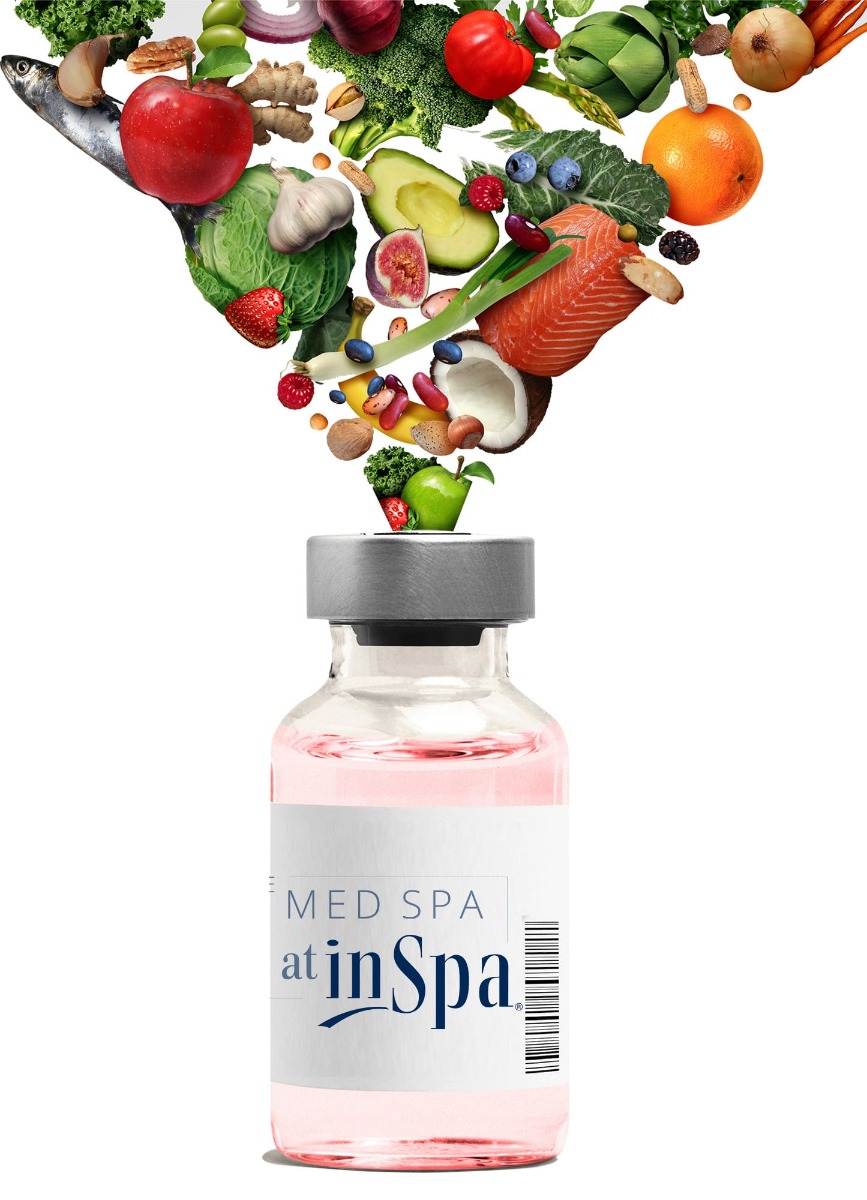 NUTRIENT
SHOT BAR
When you need it — a vitamin shot injected directly into your muscles (IM) bypasses the digestive tract — resulting in a higher concentration of nutrients going directly into your bloodstream.
One pinch. Big Results.
Energy Boost
$30
B12 (Methylcobalamin)
The powerhouse B vitamin - fights fatigue, improves energy, relieves stress, increases metabolism.
Triple Immunity Boost
$30
Glutathione; Vitamin C; Zinc Sulfate
Powerful antioxidants for cell health & detoxification, fight oxidative stress, give respiratory system support; anti-viral benefits from zinc sulfate.
Athletic Performance
$30
Amino Blend (L-Glutamine, L-Ornithine, L-Arginine, L-Lysine, L-Citrulline, L-Carnitine)
Amino acid cocktail for protein synthesis, enzyme production, hormone regulation, cognitive performance, neurotransmitter balance, increased metabolism.
Fat Melter
$30
Lipo-B (Methionine, Choline, Inositol); B12
Targeted essential amino acids boost metabolism, increase fat (lipid) processing; B12 boosts metabolism and energy levels.
Beauty Boost
$30
Biotin
Supports lipid production to nourish skin, stimulates keratin production and follicle growth, strengthens brittle nails.
Vitamin D3
$30
Vitamin D3
Enhance immune system, regulate hormones, reduce inflammation, strengthen bones, antioxidant; regulate and improve mood.
NOTE: VITAMIN D3 MUST INJECTED IN THE GLUTE MUSCLE.


Toradol
$30
Inflammation Fighter
A prescription nonsteroidal drug that treats moderate to severe pain and inflammation; non-narcotic, non-addictive. Especially useful when added to Hangover IV Drip.
Zofran
$30
Anti-nausea
A prescription drug to prevent nausea & vomiting.